Public Cock, Ball & Ass Kissing Freak Slave Assignment
by
Princess Mindy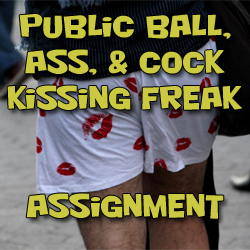 This 5 star humiliation assignment is both creative & HIGHLY entertaining for Myself, random men *possibly your peers*, and even YOU!!!
you will be sent out in public to do something discreet, pathetic & so fucking funny & humiliating that This assignment alone might change who you are or at least what you think of yourself…
This slave assignment comes complete with what to do, a goal, mission and even a closing degrading jerk off and cum permission to end the assignment… Sure you get to jerk off and cum but boy, are you ever going to have to pay with your self-worth and esteem for that jerk off and cum!
This assignment is safe, legal and discreet, even though its public… theres ALLOT of room for error which means theres a bit of room for being caught and if you get caught.. its a humiliation you will NEVER forget!
$12.99
*** This assignment has received ALLOT of feedback – its very popular! ***
This degrading yet highly entertaining slave assignment is only for majour idiots, sickos and real loser slaves… Its humiliating, its degrading, I mean its public too. Even though its 100% legal, you still face the possibility of MASSIVE PUBLIC HUMILIATION… and Im talking serious real humiliation. Even if you dont get caught you little piggy pig slave, you're still going to have to deal with knowing what Iv made you do… how pathetic you have behaved, all in the dame of doing what ever the F I tell you too.. and becauseyou're a gross moron loser.
Admit it, when hot girls laugh at you and think you're disgusting it makes your stupid tiny little loser cock hard! Theres nothing that turns you on more then being sent on one of MY slave assignments and being degraded and humiliated by your One and Only ebony Goddess, Black Mistress, Bi-racial princess… Bratty Princess Mindy!
Ass kissing, ball kissing man ass, public degradation and humiliation is the name of the game with this loser public humiliation task.
Dont be a bored bitch any more… Do My Assignment Now!
$12.99 
**** Slave Training ***
Get REAL Slave Training just like the assignment… of course you will have to tribute for My time but you wouldnt want it any other way would you bitch?!!… nope you know that its you who needs Me, you need my abuse & my training so, use the info below with RESPECT & care!
Contact Me for slave training only if youa re ready with your financial tributes to serve… I dont do free feeler questions… princess is far too busy for slaves in that stage… if you're ready to be humiliated, trained and owned… Contact me Now!
My slave assignments are the perfect way to get your feet wet, test the waters, experiment and learn how far you want to go, what you like or dont like and even try new things discreetly… any time you want to step out of the shadows and have some real fun, then you come semi trained and all you need is to be on your knees and have your wallet ready for me!
My Yahoo ID: "MistressMindy1″
*I have Skype too!*
$ After you purchase these stunning pics, you WILL want to contact Me & express your adoration, as well serve Me! $
1-800-To-Flirt  /Extension 0582-442
100% pure verbal abuse & harsh humiliation $4.99 per min & 100% safe, discreet and secure!